Announcements

QUADZILLA TUNE REPOSITORY - There is now a Quadzilla tune download area. When you submit a tune file to the download area it will automatically create a forum topic that allows discussion of your tune. So export your tune and upload it to the site. Then we all can help out in building better tunes. Check it out gang...

Hey Gang, I've got the 911 support group database back up and running once again. It's listed in the 911 support category. It will allow members to list their contact information and location so other have a listed of members to call upon in the time of need. So if you wish to support other member please stop by and add your listing into the database. https://mopar1973man.com/cummins/911-support.html/contacts/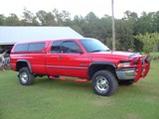 Jgendr - 2001 Dodge 2500 ~ Big Red!!!!
Started by jgendr,

---