BTU Values for fuels and chemicals
| | |
| --- | --- |
| Fuel Type | BTU's |
| 2 Cycle Oil | 138,000 BTU / Gallon |
| #2 Diesel Fuel (40 Cetane) | 133,000 BTU / Gallon |
| #2 Diesel Fuel (45 Cetane) | 129,000 BTU / Gallon |
| #1 Diesel Fuel (53 Cetane) | 126,000 BTU / Gallon |
| Conventional gasoline | 116,090 BTU / Gallon |
| Propane | 84,250 BTU / Gallon |
| Ethanol | 76,330 BTU / Gallon |
| Methanol | 57,250 BTU / Gallon |
| Mineral Spirits | 19,000 BTU / Pound |
| Xylene | 18,651 BTU / Pound |
| Benzene | 18,184 BTU / Pound |
| Acetylene | 21,502 BTU / Pound |
| Naphthalene | 17,303 BTU / Pound |
| Naptha | 15,000 BTU / Pound |
ASTM Labs Grading Scale of Diesel Fuel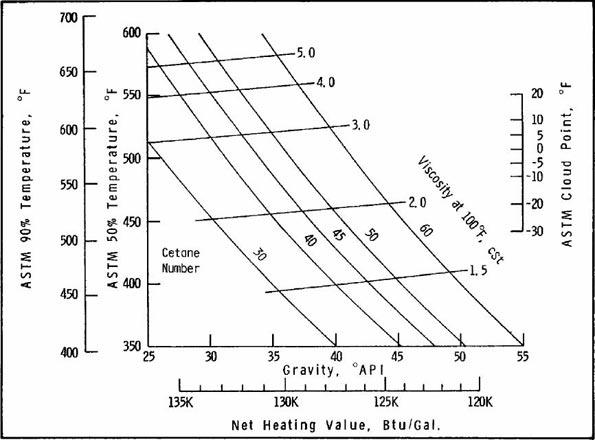 So is it possible that any kind of cetane booster / injection cleaner containing these chemicals can IMPROVE you performance? It's impossible. They have a considerable reduction in BTUvalue and extremely low flash points like gasoline. Please take the time and look up your favorite additive in my MSDS listing.
Furthermore, for those of you that are switched to BIO Diesel / Ethanol fuels (Gasser). Take notice that both fuels produce less power compared to the Dino version. So it will reduce your fuel mileage some...
The higher the BTU value the higher HP/TQ number and MPG numbers you'll net from your vehicle.
So this also proves that cetane booster will increase the cetane level for sure, but it will decrease the BTUs and HP/TQ... This explains why in the winter time when they increase the cetane to 45 or better the MPG decreases. It because the BTUs were lost with the cetane booster added to the fuel. So this proves without a doubt a 40 cetane provides more power than45 cetane fuel.
Quick Story...
While I was at the Dyno when I got my results above. A friend of mine ran a very popular brand cetane booster in the main tank mix with the two-cycle oil at 128:1. When he ran the dyno on the two cycle and cetane booster, he lost about 15 HP/30 TQ from it. So he switched over to his auxiliary. Tank and ran just the two-cycle oil. The result was he gain back plus about 5 HP.So increasing the cetane level of your fuel doesn't mean you gain power it actually will decrease it!