Jacobs Exhaust Brake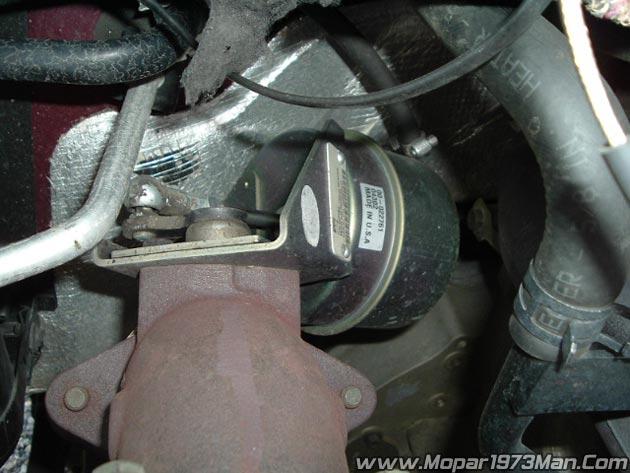 This is probably the most used piece of equipment on my truck. I use the Jacobs exhaust brake to do about 90% of all my braking on the highway, city streets, and off-road. My service brake pads are still factory pads and I've got over 180K+ on the clock. The brake shoes have got 25% left. It's a vast savings to the brakes. I finally replaced my brake pads all the way around the the truck at 187K. I didn't need to replace rotors just had the turned. Now for the next 200K miles.
Sorry to say the Jacobs Exhaust Brake doesn't exactly has the diesel rumble when you use this style of exhaust brake. But you do get a hissing noise from the exhaust pipe.
There is a bonus to the Jacobs exhaust brake. You can active it on a cold winter morning and get the pyrometer well above 350°F within a few seconds after starting it in the morning. If you use my high idle mod you can warm up a engine even quicker.
I purchased the Jacobs Exhaust Brake from a Dodge Dealer in Lewiston, Idaho for $800.00
Here is a few more videos... Watch them... I sub titled them with the function I'm doing. You'll find out I rarely ever touch the service brake pedal and why my stock brake pads lasted to 187K miles. In the first video here is coming to a stop from highway speeds of 55-60 MPH using mostly my Jacobs Exhaust Brake. You'll see the subtitles of me gearing down and using the Jacobs exhaust brake (or jaking).
This video is of leaving the mountain up around McCall, ID which is a 7% grade that is very windy with turn marked for 25 MPH. You'll see how I manage to keep control of the vehicle speed without using any brake pedal all but heavy use of the Jacobs exhaust brake.
It takes a little bit of time to learn how to use you Jacobs exhaust brake as a primary braking unit. There is other thing to consider is your following distance and how fast you can decelerate using only the Jacobs exhaust brake. Once you learn how fast and how much braking force a Jacobs exhaust brake has by itself combined with your service brakes they are a wonderful duo. You'll have enough braking force to actually bark the rear tires coming to a stop.
Another trick is to add a second switch to your transmission stick so you have the switch right there with your thumb. If hooked up right you can have instant braking power from the Jacobs exhaust brake at the flip of a switch without the 3 second wait.
1