This article covers the Timing tables in the ECM that control what timing is at a given point in time.  It is meant to help people understand why timing does what it does, and why MPG falls off so fast as MPH increases beyond ~55 mph.  It also helps show why mpg is non existent with a truck with 4.10 rear end.  
For the sake of the article we are only going to look at 3 timing tables, there are more, but they dont really apply all the time.  Also keep in mind I tried to make the x axis on each map %0-100 of load / fueling, but use fuzzy math because it is not exactly 0-100 as it is based on the fueling command passed to the VP44.   however each map is less fueling to the left more to the right.  
1ST  The Base Timing Map.  this is the map that the ECM using to say no matter what this is how much "base" timing.  


2nd The Static State Map.  This map controls how much timing is added ON TOP of the base map if conditations are static. Load / RPM / TPS input etc etc all static AKA cruise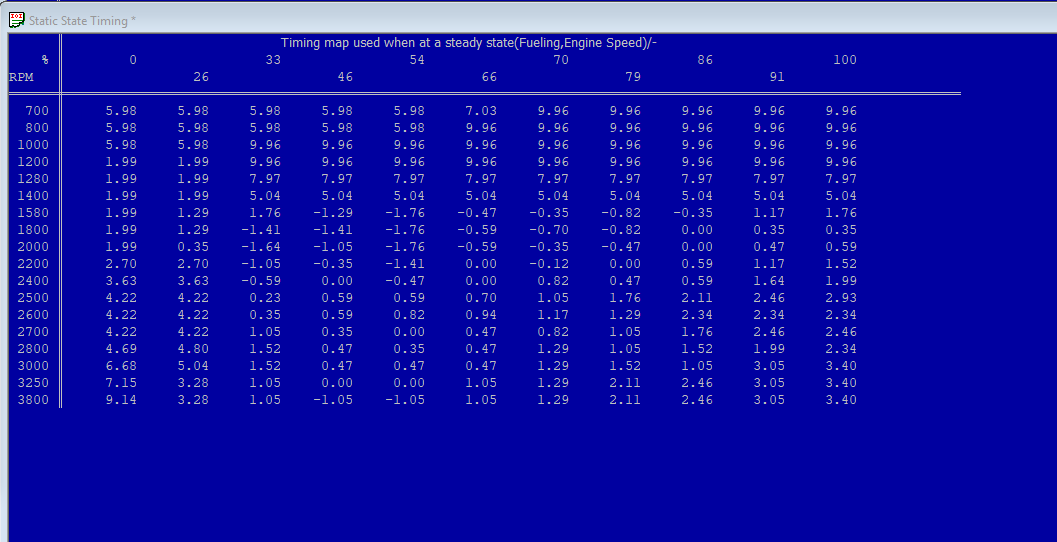 3rd The Dynamic State Map.  This map is what the ECM uses for timing to add ON TOP of the base map if conditions are changing, AKA accelerating or decelerating etc  We won't look at this one for MPG info, but you can use it to see what timing is doing under load.  hint timing is at or near 12*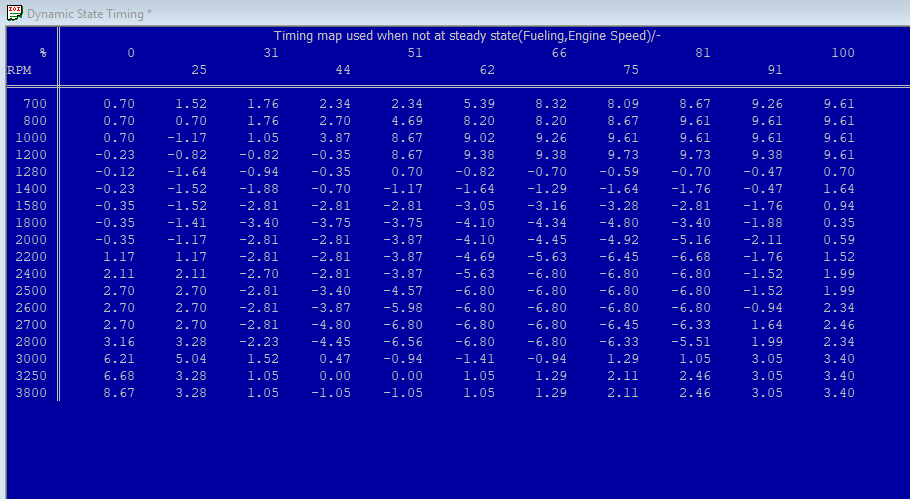 So what we do is find the area of cruise state in the maps, Say ~1500 rpm and ~30% load.  If we look at that area in the base map we find ~13* of timing for a base amount, then we see Static State Map has an "island" of timing increase in that same rpm area.   You can see the ~6* drop in timing once you go from 1400 rpm to 1580 rpm.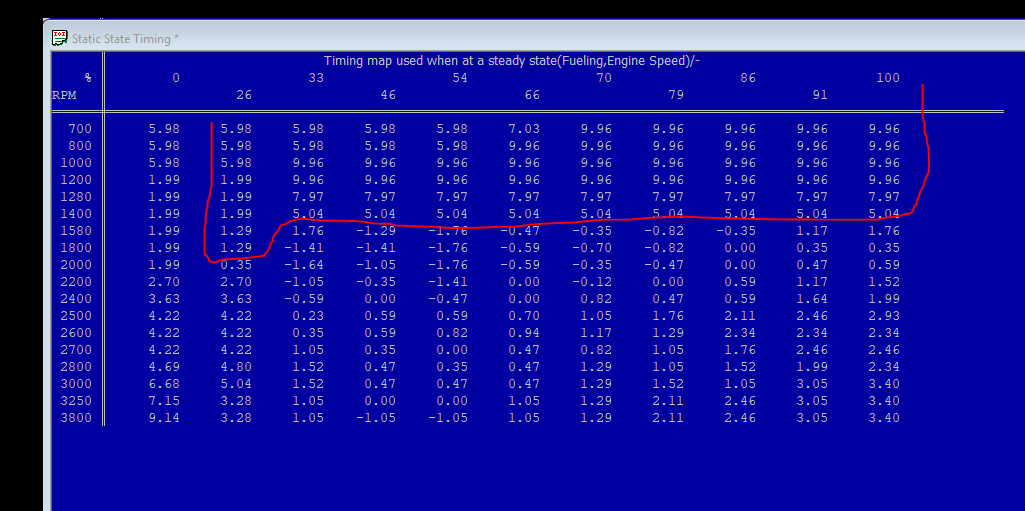 The resulting timing will be ~18* at 1400 rpm and ~13* of timing at 1580 rpm.     What we have found is that best mpg tends to happen if we stick timing in that 18*-19* range at cruise state ~55-65 mph.   
If we look at gearing vs speed for a 47re you can see that with
3.55 rear end 55 mph = 1450 rpm
3.55 rear end 60 mph = 1600 rpm
4.10 rear end 55 mph = 1700 rpm
4.10 rear end 60 mph = 1850 rpm
With stock tuning,  this means that a 3.55 rear end mpg will fall off at pretty much 55 mph, with a 4.10 truck mpg will fall off well before highway speed. 
Now if you add a Edge ez, quadzilla zxt, edge comp, type tuner you will see 2 things happen.
1. You will need less throttle input to move down the road at a given speed, this means you are further left in the maps above.   Note that if you move too far left your timing falls off again.  AKA if you go too big in injectors, without tuning to correct the fueling,  your mpg will start to drop off.  you may blame "big injectors" but it is actually far to little timing to support good mpg.
2. you are adding timing on top of the ECM desired timing. 
So what this means is you will get oem timing + an added 1* or 2* of timing.  this will help keep mpg up near 55 mph with a 3.55 truck.  However as you increase speed the oem timing will fall off faster than the tuner will add it.     Again please remember that somewhere in the 18-19* of timing is about righ tfor good mpg in that 55-65 mph area.  The longer you can hold timing up as rpms increase beyond 1400 rpm the higher your mpg will be.  
Now if you are using Quadzilla Adrenaline with V2 tuning or UDC pro you are able to set timing where you want it regardless of the above maps.  this is very handy to get mpg up and hold them up as you increase speed beyond 55 mph  
1

2