Electric Fuel Pressure Gauges
 I know a lot of people enjoy the idea of having an electric fuel pressure gauge so there is no fuel inside the cab of the truck. Most people get through the first year trouble free and no issues happen. But did they? Electric gauges are prone to the same failures like mechanical gauges. The only difference is mechanical fuel pressure gauge you can audibly hear the gauge buzz when the water hammer is occurring on a mechanical fuel pressure gauge. Most electric gauges are electronically dampened so you never see the pulses. With electric fuel pressure gauges you might take on damage to the sender and not notice any problems. Then again if you compare against a mechanical gauge you might find out serious differences. There is a lot of people buzzing on the forums saying fuel pressure gauge senders are failing from engine vibration. This is not true. The fuel pressure gauge sender is failing from water hammer pulses created from the injection pump.
The Design
 So let me show what I've done and why I did this design.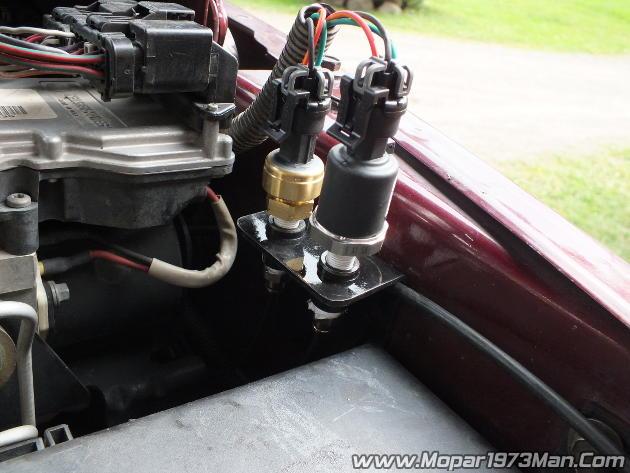 First off I contacted Eric at Vulcan Performance and had him quickly produce the bracket and fittings for me. What this does is absolutely rules out the vibration angle. But there is another reason why I had the bracket made. Knowing the problems with sender failures I need a place that I could access the fuel pressure sender quickly and be able to tap in a test gauge. Now with the remote bracket you have a very easy place you can screw in a test gauge and verify the fuel pressure gauge sender function and see if its accurate. You'll also notice in the picture I've used air brake tubing from the sender back to the tap point. Air brake tubing is inexpensive and available at most NAPA part stores. Air brake tubing is rated for about 800 PSI. The length of air brake line is 5 foot in my setup. I was trying to give as much distance from the water hammer source which is the injection pump. Now another thing I opted for this go around is the Push To Connect fittings. This makes changing tubing or removing tubing fast. Just push the collar back and light pull the tubing out.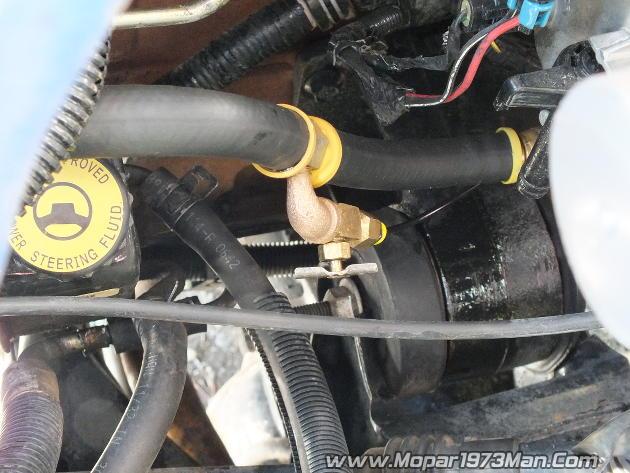 My tap point is like most Vulcan Big Line Kits where you have a Push Lock Tee Fitting in the center of the hose. I came out of the tee with a brass elbow then stacked on the needle valve, ISS Pro fuel pressure snubber and a push to connect fitting. Now the needle valve only purpose is to cut the fuel flow in case of an air brake line failure. It impossible to actually use the needle valve solely as a snubber. Since ISSPro EV2 gauges always reset to zero and then pop up to pressure so you never could adjust the needle valve to dampen the pulses properly. So that's why I kept the snubber after the needle valve.
So with this setup I'm capable of getting the fuel pressure gauge away from the water hammer source. I've given the fuel pressure gauge sender a fixed mounting bracket to be screwed into and not flopping around the engine bay on the end of grease gun hose that does nothing. The air brake line give distance from the source of water hammer so given it time to fade possibly in the distance of travel. A easy access test port for tesrting the sender to a mechanical gauge.
Why?
Everyone knows I had DiPricol mechanical gauges for 10 years now. Never had a failure with them till 10 years my pyrometer started to get flaky so why risk it just time to replace them. So I opted for electric gauges to see if I could over come all the fuel pressure gauge failures. I chose ISSPro EV2 Gauges for my truck on this go around. ISSPro has been around a very long time and I will have access to replacement parts anytime I need them.