Winter Front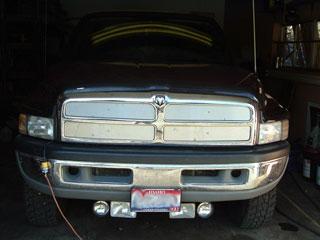 Basically my winter front is a old road sign cut up to fit the opening in the grill.(Thank you! Kelly Hinkley - "The Metal Shop" Riggins, Idaho) I've seen several other ideas including, stainless steel, plexiglass, lexan, and several other materials. But the principal is simple. Keep the cold air from blowing across the radiator and engine. This will aid in engine warm up times and fuel mileage.
Remember the cold air will extend the warm up times hence this will cause more fuel to be consumed till the engine is completely warmed up. (Roughly 160-190°F) I've seen about 5-10 miles before I got full engine temperature without the winter front. Now with the winter front its less than 3 miles to get full engine temperature.
Excessive cold air for air intake will actually degrade performance. So with the winter front in place it will trap more warm air under the hood for engine use. Compression engines (diesel) require compression of air to make heat to fire the fuel. When the air get cold enough it will start to degrade the performance and fuel economy.
As for overheating... Not likely. As long as the fan is in place with the winter front the fan will engage to help cool the engine down if the temperature was to rise from extra load or steep grade.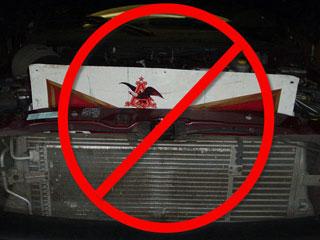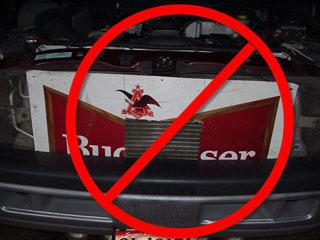 I'm seeing people that are putting a piece of cardboard in front of the coolers and radiators or putting it between the radiator and the coolers. Most people put a good size hole in the middle and insert it... This is WRONG! DON'T DO IT!
Why is cardboard inserted wrong??? Well when you put a piece of cardboard against radiator or coolers your block air flow completely all the time. Then when you cut a hole in the middle of the cardboard your blowing cold air on the fan clutch keeping it unlocked always... If the fan clutch did lock it couldn't cool the engine down you got cardboard block the flow of air. Remember also there is a lot of air pushing against this and will plug the face of the radiator/coolers with what ever material you use! The only air flow is going to be at the center where the hole is at... So now you got a overheat problem possibly with both coolant and exhaust temperatures. 
So why is the winter front CORRECT?? Because the winter front block the cold in coming air but it leave a gap between the grill and the coolers. So now if the fan should happen to lock it can pull full flow of air through it to cool not only the radiator but the intercooler too!