Description
The intercooler system (Fig. 28) consists of the intercooler piping, intercooler and intake air grid heater. The intercooler is a heat exchanger that uses air flow from vehicle motion to dissipate heat from the intake air. As the turbocharger increases air pressure, the air temperature increases. Lowering the intake air temperature increases engine efficiency and power.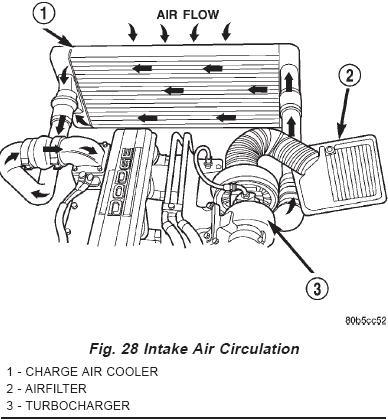 Operation
Intake air is drawn through the air cleaner and into the turbocharger compressor housing. Pressurized air from the turbocharger then flows forward through the intercooler located in front of the radiator. From the intercooler, the air flows back into the intake manifold.
Inspection
Visually inspect the intercooler for cracks, holes, or damage. Inspect the tubes, fins, and welds for tears, breaks, or other damage. Replace the intercooler if the damage is found. Pressure test the intercooler, using Charge Air Cooler Tester Kit #3824556. This kit is available through Cummins Service Products. Instructions are provided with the kit.
You can also use the below to test for boost leaks with turbos with a 4" inlet
Mopar's Notes: Many people have created their own air system or intercooler testing equipment from common plumbing part at a hardware store. Basically, you want to cap off the turbo and have an air connection that is regulated to 20-25 PSI maximum. You can spray down the air system with soapy water and look for leaks (bubbles) or see if the pressure falls off.
WARNING! Do not use caustic cleaners to clean the charge air cooler. Damage to the intercooler will result. If internal debris cannot be removed from the intercooler, the intercooler MUST be replaced.
1. If the engine experiences a turbocharger failure or any other situation where oil or debris get into the intercooler, the intercooler must be cleaned internally.
2. Position the intercooler so the inlet and outlet tubes are vertical.
3. Flush the intercooler internally with a solvent in the direction opposite of normal air flow.
4. Shake the intercooler and lightly tap on the end tanks with a rubber mallet to dislodge trapped debris.
5. Continue flushing until all debris or oil are removed.
6. Rinse the intercooler with hot soapy water to remove any remaining solvent.
7. Rinse thoroughly with clean water and blow dry with compressed air.
3