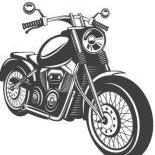 About This Club
For motorcycle enthusiast no matter what make or model
What's new in this club

yeah the rest is a means to an end BUT I now have a TIG

Well just this weekend decided to go halfs on my brothers workshop with him, my brother uses it part time but he does car panel welding, he has a 80's Vauxhall Cavalier to do which to me looks ssrap but the owner wants it done and is prepared to pay for it to be done, I guess as you get older you don't really realise that what younger people class as classic cars are way younger than certainly what I class as a classic car ! We did a 2007 Ford Transit SWB van this weekend, both front steps, both inner cills, both outer cills, big underquote as bro went and checked it out in the DARK ( glad I didn't go look at the job) only panels we had bought were both steps and both short cills so maybe close to 10 to 15 ft of fabrication for cill panels. The good thing is this van repair had half paid for a Lincoln Electric Squarewave 255 TIG welder we bought on friday, is AC/DC so will weld ally, I have a 1920 something JAP engine case to do and just maybe I'll be able to hardtail the Harley frame I have

No nothing at all Still waiting for the call to say the motor machining is finished. The company I took it to is not far from Donnington race track and they are the choice for the entire race fraternity both cars and bikes, just a couple of old guys and they go there own pace and that's that, first used them over 35 years ago to rebore a yamaha RD 400. When I dropped the harley engine off the shop floor was buried in engines, parts etc must have had a 100 jobs ongoing easily. I'm really busy anyway so not too bothered at the moment. Hopefully work will slack off some soon. I recently got 3 land regeneration sites for one company that I look after quite a bit of mobile plant plus the 11 sites for the Co I used to work for. And I thought I was semi retired, my diesel bill isn't far off £300 per week because of the miles I'm doing site to site

Any progress been happening?

Yesterday I bought myself a Ultrasonic parts cleaner, wasn't nowhere near cheap as it's MIUK and not china, I could have bought a chinese made one quite cheap the UK one was not cheap, I get the Vat back because I'm a business so thats 20% less Professional nearly 8 imperial gallon tank or 9.5 US gallons, with basket, all stainless steel I have quite a few parts off the Harley to clean and I also repair and restore Magnetos so looking forward to it arriving and seeing what it can do

Me neither but I guess the day job (nuclear engineer) gives away his skill, he'd be retired from nuke stuff now I'd guess

I love the V twin Honda 100 made out of a Honda 50 single, the 4 cylinder kawasaki KH 2 stroke and the Z1 6 cylinder. I watched him do a asphalt hill climb on the flying millyard, sure it's 5litre

Didn't Chrysler corp build a viper v-10 bike? The Tomahawk I think? I'll have to check the Googler.... It was Dodge... Four wheels does not a motorcycle make....but it was cool https://www.topspeed.com/motorcycles/guides/10-must-know-facts-about-the-dodge-tomahawk-ar196350.html

Been watching a program here called junk and disorderly where 3 guys buy and sell automotive stuff to try to get enough money to buy an old Buick (i think) Anyway one of the 3 Allen Millyard has built some seriously cool bikes for 1 how about a 6 cylinder kawasaki Z900 ! also the Flying Millyard and He's fitted a Viper V10 into a motorcycle.... 200mph. He's a Nuke engineer and a rocket scientist, one clever guy Take a look here https://www.bing.com/search?q=allen+millyard&cvid=701adf08318142b5861069bd6f8912e3&aqs=edge.0.0l9.5767j0j9&FORM=ANAB01&PC=U531

I presently have both, my harley is a 2008 anniversary edition wide glide. Then there's my 1977 gold wing. Both great bikes are great in their own rite. Since buying the Harley though I rarely ride the gold wing so my daughter wants it. She just recently got her motorcycle endorsement, she came over last weekend and took it for a ride. She loved it. So it's now hers. I think she also wanted it because it was dad's bike. She's a bit of a daddy's girl. Lol I at least know she will take care of it.

Man that is a pretty motorcycle. Sadtosay I'm not much for Harleys more so Goldwings. But the funny part is most riders come together and ride together regardless of makes.

I know what you mean, while I'm waiting for the engine to be done the bike lift makes a nice work bench, bit low but pull up a seat and all is good Nice bike BTW

You're going to love it. Can't imagine not having one now that I'm older. My body doesn't crouch or bend like it used to.

Picked up a Made in England motorcycle/ small plant table today off of Ebay, bought it a few weeks ago but the seller had to go the Scotland for his daughters wedding and I had covid, no rush for it anyway. Had to move some stuff around in my tiny workshop where it is going, I have a bigger workshop but the small one is heated by my biomass boiler and when the boiler is on it's toasty @IBMobile can you turn the picture the right way up please The picture is right on my laptop and on my phone, I even saved it upside down but it still came out upside down @Mopar1973Man what's causing this ?????

Dropped off the outer engine cases and rocker covers to the machine shop to be blasted yesterday, they have made a start but are now waiting for parts

Well yesterday I found the time between doctors appointments to drop the motor (In bits) off at the local machine shop which is about 8 miles away from me, these guys have been around for years and have done machine work for most motorcycle race teams being they are 3 miles from Donnington race track They are going to.... press the crank out of the left case and check it for runout If crank runout is ok I'll just replace the outer bearings and seal 2 small repairs on the engine casings and bead blast replace the camshaft bearings and bushings bore cylinders hopefully to 20thou as thats the cheapest Wiseco piston size 3 angle valve cut and replace guides repaint the barrels and heads 5 to 6 weeks before they can even look at it they are that busy Found a company here in the uk that makes a brand new hardtail frame for a ironhead for £895 so that will be next

Looks like you had a great time.

More pics of the huge Harley dealer. Had to stop sending them. It was my turn to drive. Lol And more....... And some more. This place was big. Sorry for so many pictures.... The above pics were the lower level. The following are the upstairs. And a few more. And me and the wife in the giant chair outside. We had a great time! We just got home not long ago. Had just enough time to unload the bikes and all our stuff before the sun went down. Nice to be back home.

Ok! So Thursday was a good day. We went to coral castle in homested florida. Took the tour, very informative. Loved our tour guide, a woman I'd say in her 40's or so. She moved here from chili so had the accent but very easy to understand. She was amazing. So full of energy and pationate about the place. She was fun. She us in the first pic below, blue short with the white towel draped over her head. I have many pics of it but honestly, tou can see most of it online and get a much better story about it than I could give you. Very interesting. The whole place was built by 1 man only 5 feet tall and 100lbs. Amazing what he did there. Look it up, you won't regret it. https://coralcastle.com/ After the coral castle we went to Miami, walked the Pier and the the boardwalk along Miami Beach. Got a bite to eat at TGIFRIDAYS. Then went for a powerboat tour where they put roughly 40 people into a powerboat and go out into the bay and speed around for a bit then give a tour of some of the huge homes along the banks. Then time to go fast again! I got a pic of the orange tunnel boat. We were on the green V bow version. A few of the views from the powerboat We did not make it to Miami Harley Davidson however. Wife wanted to do the powerboat tour so I cut the dealer stop to make it happen. She had an absolute blast so it was well worth it. We left Fort Lauderdale Friday morning to begin our trip home. We decided to stop at one of the, if not THE largest Harley Davidson dealers in the country. Daytona Harley Davidson.

I finally got the shifter mechanism figured out. I spent about 5 hours day before yesterday looking on the floor for this top hat bush with no luck, yesterday I went into the shop determined to rip everything outside until I found this little bush, 10 minutes later I found it, hadn't hit the floor as I thought ( I was sure I saw it fall to the floor) it had fell into the 1 1/4" socket I used to remove the primary sprocket Figured out the top hat bushes do not sit under the spring bar for the selector quadrant but sit on the selector fork pins that sit in the quadrant Crankcase now split, started looking for a press to press the crank out of the left case but cannot find anything thats made in a country I would buy from so I'm spreading some thought onto that. Good job I went all the way as one of the rear mounting bracket bolts was too long and has slightly cracked the right case easy repair from the inside

Loves me some Key West.... Been way too long. Looks like you're definitely having a good time.